The finished article below is how our Kitchen Plans are put together to enable  A1Class customers to see our drawings. These drawings provide an insight into the design and construction of your kitchen. Please give us a call or fill out our contact form and let's see how we can help you.
Deciding on kitchen plans is no mean feat, it requires lots of thought and design ideas. What we would suggest before you get started on a new kitchen plan is to really look at the existing one. What is missing? What are your bugbears of the current design? When planning and designing other rooms in the house it becomes more about style and less about functionality.
Our suggestion would be to attack your kitchen plans in simple steps.
Step 1: De-clutter! Spring clean your kitchen cupboards – if you haven't used it for a year….bin it!
Step 2: Make a list! Look at your current kitchen and list all the things you like and dislike about it. For example, since de-cluttering do you have enough storage space? Do you like the colours or are you having a complete change? Do you have lots of appliances etc. on your worktop? If you do, is that how you like it, or would you prefer more storage to in turn have more worktop space – all of these answers will affect how you work out your new kitchen plan.
Step 3: Space! Do you have enough space in your kitchen? Can 2 people move around each other adequately? Do you have enough floor area to knock down a wall between your kitchen and dining room/living room to allow for an open plan? Extending your kitchen plan design by opening up an area is becoming commonplace and what many people are looking for. This may make your home more attractive when you come to sell. Check out our fitted kitchens page for videos on open kitchen plan designs that we have recently created.
Step 4: Utilities! Nothing more annoying than using extension leads or double adapters in a kitchen space. When you look at your new kitchen plan, consider whether you have enough sockets? The same applies to plumbing – can you accommodate the following; sink, washing machine, dishwasher, radiators (consider swapping a radiator for an integrated plinth heater to save space) American fridge-freezer (plumbed in).
Unless you are fortunate enough to have a separate utility room then your kitchen plan should definitely accommodate all of those things. If you don't have enough space for a dishwasher, maybe a combined washer/dryer would allow for both.
If you have decided that open plan is for you, are you having a kitchen island unit? If you are and that will incorporate a sink or a hob or a microwave, for example, you need to make that decision at the kitchen plan stage.
Once the flooring is laid, it's difficult to then start running pipework or cables to accommodate additional services. Plumbing will always be more cost-effective if you can ensure that your kitchen plan allows for your dishwasher and washing machine to be located close to your sink. It simplifies pipework considerably.
Step 5: Floors! Make all kitchen plans as complete as possible before a floor is laid. Are you having under-floor heating? Is the flooring that you are having suitable for under-floor heating? Are you having tiles? Wood? LVT? – These all have to be decided before the floor goes down.
Step 6: Lighting! Did you know there is a rule of thumb for maximising light in your room? The kitchen lighting is always going to be an important consideration because ultimately it is a workspace.
Correct lumens (total quantity of visible light) are often calculated by your electrician to ensure you have sufficient lighting. We have a great electrician on board who will happily discuss your practical and ambient lighting needs.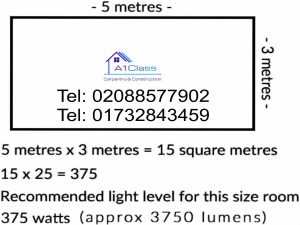 Step 7: Needs! It's important that your kitchen plan is in line with your individual family needs. Everyone uses their kitchen in their own way. Ensure that you write down your needs to discuss with our valued designer who will work with you on your design to maximise your ideas.
Step 8: Style! Again, the individual style will account for how your kitchen cad plan looks. Consider a mood board or gathering some ideas on Pinterest or magazines to show to the designer to ensure your kitchen dream becomes a reality.
Step 9: The design! It's great to have your own ideas and to create your own kitchen plans. Our advice would be to bring in a kitchen designer to help you bring your plan to fruition. They have years of knowledge and experience and will be happy to share that with you.
They may have storage solutions that you hadn't considered and they will always be happy to discuss how your plan will fit into that. Once they have had that discussion, they will go away and create a cad plan of your kitchen and a visual representation for you to view.
At this stage, we will be able to estimate the costs of your kitchen plan and work out the best way forward for you if the kitchen you chose is within your budget. We pride ourselves on working alongside a designer that listens, isn't pushy and will help to design with you in mind. This service is all bought to you free from A1Class Carpentry & Construction.
We believe in giving you value for money and will always be honest with our estimates. It's always helpful to us if you are also honest with your budget. It's so easy to get carried away with all of the gadgets and appliances that can be offered as part of your kitchen. Ask yourself honestly 'Will I use it?'
Realistically, if it's not within your budget, we are happy to offer alternative solutions so that your kitchen is within reach financially. We have very good, longstanding relationships with appliance suppliers and we will make suggestions/recommendations to you if we feel that we can lower your costs on certain items in keeping with your budget.
Step 10: Coup de Grace! – The fun bit! This is where your style will come into its own. The finishing touches to your working environment. Choosing cabinet handles, colours for the walls, and collecting together accessories to personalise your kitchen, all come together to create the individual character of your home.