Kitchen Fitters and Local Installers Near You
[ditty_news_ticker id="1676″]
Local Kitchen Fitters
A1Class help you from the initial Kitchen planning stages of your fitted kitchen through to completion. The most important thing to determine is your personal style, and whether that will remain the same or be completely redesigned, we are happy to help you establish your dream fitted kitchen every step of the way.
Some kitchen layouts that we have planned, supplied and fitted are; One wall Kitchens, Galley kitchens, L-Shaped Kitchens, L-shaped kitchens with an Island, U-Shaped Kitchens, G-shaped Kitchens, and G shaped Kitchens with an Island and Open Plan. A1Class will assist you to choose the best design that is perfect for your needs.
So whether you are looking for a face-lift for your kitchen to bring it into the 21st century or looking for a complete refurb, A1Class is the place to come for knowledge, design, inspirational and innovative ideas.
[ditty_news_ticker id="1080″]
At A1Class, we understand the value of a well thought out kitchen and that, in many houses, it is the centre of the home. We can turn that dream into a reality! We know that each and every home has a different set of needs and those needs to be more than just somewhere to cook. 
It can be a place for the family to gather or another room for guests to use for fun parties. More and more, the kitchen is part of a more open plan living area that is multifunctional.  Please look at our two videos below to see how we construct our kitchens.
As experienced kitchen designers and installers in Eltham and Aylesford, we have seen the drawbacks of choosing the wrong fitter. Selecting a trusted installation service is the first step to getting things moving. 
You may have a kitchen already that you want professionally fitted, or you may need a more hands-on process from initial concepts through to the final installations. No matter what the size of the project, contact us today for a free, no-obligation quote.
A1Class work alongside qualified and insured plumbers, plasterers and electricians to offer an 'all trade' service. We are happy to work alongside other trades that you provide, however, please remember that this means project managing your own job and liaising with trades to make sure work can be carried out methodically in the order required.
[ditty_news_ticker id="1084″]
Whilst A1Class are happy to help plan, design and source your kitchen, we are also happy to fit one provided by you. We have fit B&Q, Wickes, Homebase, Benchmarx, Howdens, Magnet, Wren, and many more. When choosing your style, some companies will sell ready assembled and some will supply flat-pack. Ready assembled is always going to be more cost-effective than flat-pack as its less labour for our fitter.
In addition to our installation services, A1Class offers some beautiful timber floor coverings, check out our Solid Oak, Engineered Wood and Laminate flooring page. Looking for some bespoke design fitted wardrobes, fitted units, entertainment units, desks, boxing in? Take a look at our storage solutions page to get some ideas, or send us some ideas of your own which we are more than happy to price and accommodate.
Contact us at A1Class to help you plan and create your perfect kitchen today.
A1Class – Let's take a look at some kitchen layouts
If you need working space for more than one cook, consider making one side of your kitchen an island, giving space for you to pass each other comfortably. 
To create the illusion of a larger space, use high gloss finishing touches and light. Good lighting is a must in a Galley style kitchen, typically benefiting from a series of lights along the length of the kitchen corridor.
G-Shaped Kitchen
Don't have space for a much-coveted Island? This is when the G-shaped Style, also known as the Peninsula design comes into its own. 
Designed for the slightly larger space or an open plan, the best aspect of this layout is the spacial benefits of additional worktops and storage below providing maximum efficiency.
Providing a 4th worktop can provide a divider between the kitchen and living area using the G-shaped design.
Another great investment if you have the additional space is to add in an island, to achieve a beautifully designed as well as functionally optimal kitchen.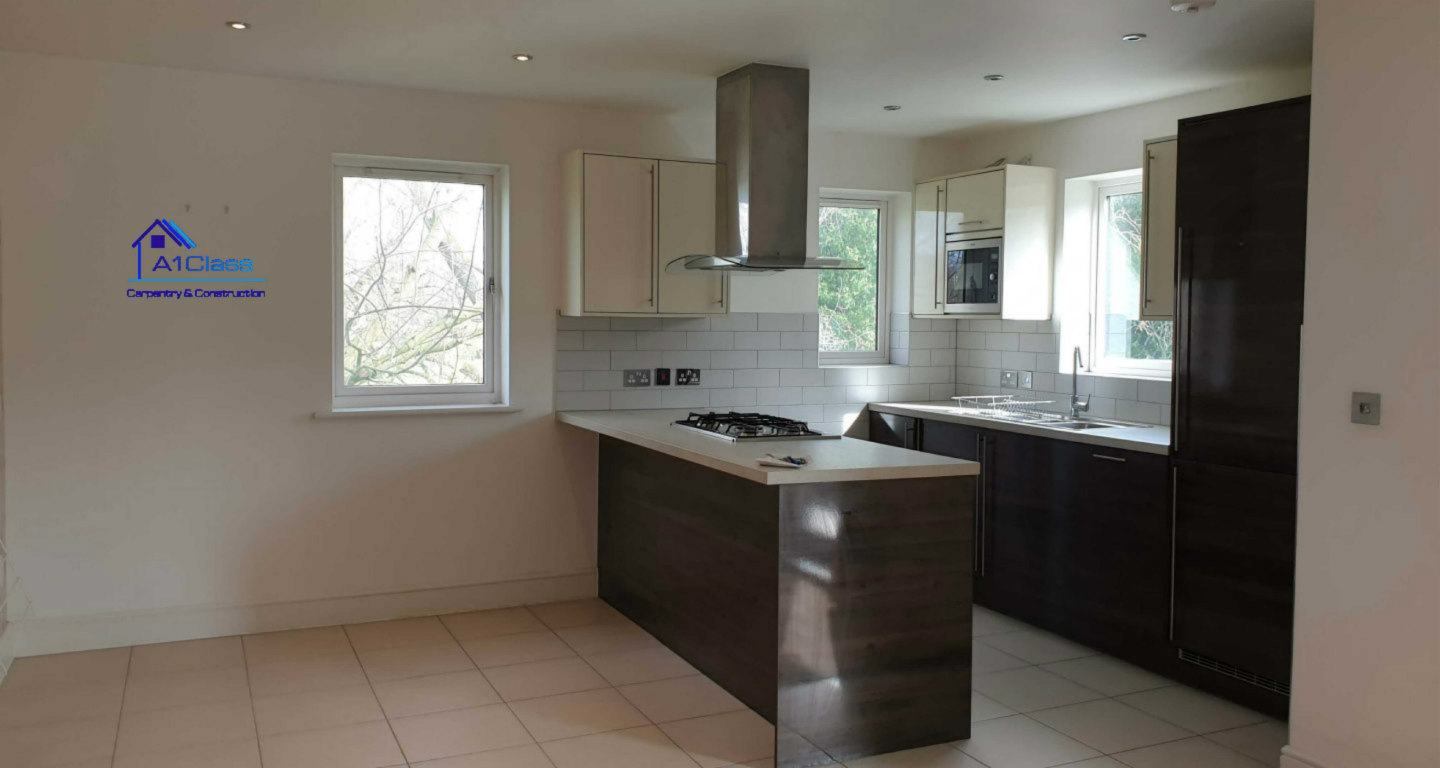 Once again, the benefit of a galley kitchen is that it doesn't need to blow your budget, it's a cost-effective solution.
Galley Kitchen and Designs
A traditional Galley Style is like marmite, you either love them or you hate them. It consists of two banks of units with a corridor down the centre. We can help you choose whether to create a stylish Galley style or rip it out and make it open-plan.
Whichever you prefer, we can plan with the help of our kitchen designer and some cad plans and photo images to make your vision become your working kitchen.
 Traditionally the corridor between the two banks of units should be within 6ft of each other to maintain efficiency when prepping, cooking and serving meals.
If you need more working space for more than one cook, then consider making one side of your kitchen an island, giving space for you to pass each other comfortably. 
To create the illusion of a larger space, use high gloss finishing touches and light. Good lighting is a must in a Galley style kitchen, typically benefiting from a series of lights along the length of the kitchen corridor.
L-Shaped Kitchen
L-Shape style are popular choices, possibly as they are one of the most efficient and practical kitchen layouts with plenty of room to move around. Worktops traditionally run along with a maximum of two walls and meet in one corner creating the basic L-shape style.
L-shaped is flexible designs in that they are workable in any size kitchen space. Giving plenty of cupboard storage, they also maximise floor and wall space. This ergonomic design allows for easy and efficient prepping, cooking and cleaning.
If you have additional floor space you could choose to add a dining table or perhaps the ever-popular island which provides more storage and work area.
L-shaped shaker style kitchen with an Island.
One Wall Kitchen and Ideas

A One-wall Style is becoming popular with many people opting for an open plan to maximize space. Whether you are looking for open plan or just want to utilise a small kitchen space in a flat, studio apartment, loft conversion, office space or Granny flat, you have come to the right place.
For the design and installation of your perfect neat and compact kitchen look no further than A1class. 
This great space-saving design gives you room for a small dining area or a breakfast bar as it incorporates your sink, fridge, cooker and washing machine all along a single wall. 
Whether you want your kitchen to look stunning and stand out or you want it to blend in, we have some perfect ideas to share with you. This design is cost-effective, using a single bank of cabinets, ideal for working space for one or two people.
This is where workspace is practical and smooth running, as everything is in easy reach with fridge, sink and cooker all alongside each other. Choose from the ready assembled kitchens or flat pack and see us work the magic for you.
Open Plan Kitchen

Our favourite has to be an open plan design where the options are unlimited. We like the idea of a shared family space where the kitchen forms part of the overall downstairs floor plan.
Refurbishing the whole ground floor is an exciting prospect and we want to share in that dream with you and make it your reality.
Here are just a few of the open-plan kitchens and ground floor refurbs we have had the pleasure of modelling.
U-Shaped Kitchen

Like an open plan style, the U-shape Style provides a social kitchen where you don't have your back to guests traditionally, whilst preparing and cooking their food.
In a smaller kitchen, you can provide a breakfast bar as in the photo above, where guests can congregate for a coffee and the kids can eat their breakfast.
Minimising wall units will allow for a more spacious feel, whereas if you need that additional wall storage, the use of light colours and clever lighting will create the same illusion.
Again, if there is space for an Island unit, you gain that additional storage and working space, hobs and sinks are popular choices to set into an island so once again you are guest-facing.
Designs for all Budgets
Kitchen Designers Near You